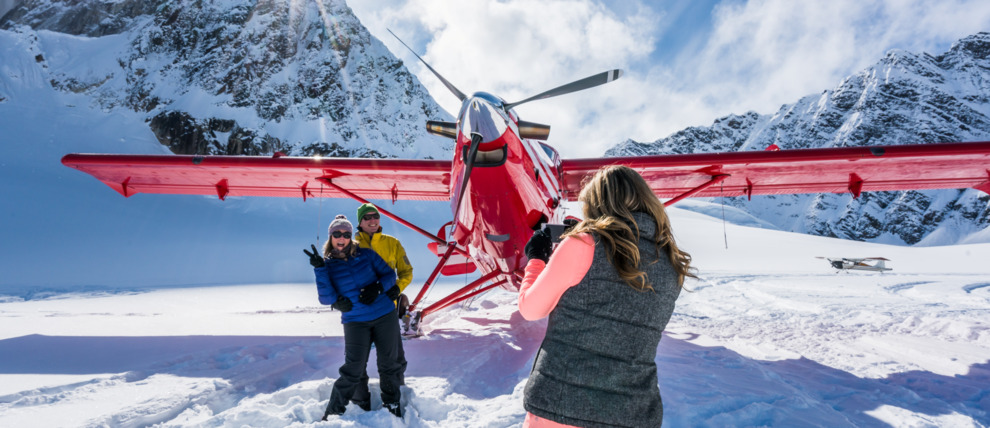 Talkeetna Alaska
A small Alaskan town with big mountain views and lots to do.
Talkeetna Alaska
A small Alaskan town with big mountain views and lots to do.
Talkeetna Alaska
A small Alaskan town with big mountain views and lots to do.
Talkeetna Alaska
A small Alaskan town with big mountain views and lots to do.
Talkeetna
The town of Talkeetna sits at the confluence of three rivers: The Susitna, Talkeetna, and Chulitna. The strategic location of the site would later draw gold prospectors in 1896, riverboat steamers in the early 1900s, and eventually the railroad by 1915. Today, Talkeetna's historic district gives visitors a glimpse into what life was like during the town's formative years.
While rich in classic Alaskan history, Talkeetna is also rich in personality. It's a proudly odd little town, said to be the inspiration behind the television series Northern Exposure. During an afternoon in town, it's not unlikely to cross paths with eccentric locals, professional crafters, artisan ice cream makers, off-the-grid homesteaders, and even elite mountain climbers.
There's just one thing that can eclipse both history and charm: Denali. Talkeetna is just 60 miles from North America's tallest peak. The town is the main staging area for climbers waiting to start their Denali ascents, and the Talkeetna area is probably the best location on the highway or rail system to view "the Mountain." Because of that, Talkeetna offers fantastic flightseeing trips. We suggest flightseeing by small airplane from the Talkeetna Airport for unparalleled views of Denali and its equally extraordinary surrounding massifs.
Keep reading for expert Talkeetna advice on where to stay, things to do, and how to get around.
Talkeetna offers many other activities alongside flightseeing. Take a jetboat trip up the Susitna River, try your angling luck on a guided fishing charter, go ziplining - there's much to choose from. Check out our Talkeetna activities page for more ideas.
If seeing Denali is a goal for your Alaska vacation, overnighting in Talkeetna is a good way to up your chances. The Talkeetna Alaskan Lodge is a great choice. Located just a few miles from town, on a clear day the lodge offers a perfect view of Denali. The Talkeetna Alaskan Lodge is also the best choice if you are traveling by the Park Connection Motorcoach, particularly if you need connecting service between Talkeetna and Seward or Whittier.
A quick note about location: The area surrounding Talkeetna is also often referred to as South Denali Park due to its location near the southern border of both Denali National Park and Denali State Park. For our purposes, we group services in the "Talkeetna Area" or "South Denali Park" that are located between the actual town of Talkeetna and the McKinley Princess Lodge, which is roughly 45 road miles north on the boundary of Denali State Park. It is also important to keep in mind that the McKinley Princess and the Talkeetna Alaskan Lodge are 105 and 150 miles from the actual entrance to Denali National Park, respectively.
Talkeetna is located approximately 115 road miles north of Anchorage, about 14 miles off the Parks Highway at the end of the Talkeetna Spur Road. Visitors usually reach Talkeetna by Alaska Railroad, Park Connection Motorcoach, or rental car. The Park Connection offers twice daily service to and from Denali Park, Anchorage, and Seward. All trips arrive or depart from the Talkeetna Alaskan Lodge. The Alaska Railroad offers daily summer service to Talkeetna from Anchorage, Denali Park, or Fairbanks. A full list of travel options is available on our Talkeetna transportation page.